High Bud! Do you want to have yourself a Merry Little Kushmas?
Me too! So I created templates for my own cannabis themed Christmas tree ornaments to help set the mood! And now I'm sharing them with you so you can make your own.
All you have to do is print the images below and decide how you are going to create your ornament. There's probably 420 different ways to make them, scroll down for some inspiration and instructions.
PRINT ME!
EASIEST WAY TO MAKE ORNAMENTS
Print out the pages on cardstock paper (thicker printer paper)

Color them with pencil crayons or makers!

Cut out around your ornament with scissors

Pierce a hole at the top of your ornaments and insert a metal hooks or string into the hole

Then hang it on your tree
Here they are! All ready to be hung on my tree
SECOND EASIEST WAY TO MAKE ORNAMENTS
Print out the ornaments

Cut very close the black line with your scissors

Trace the silhouette onto a felt sheet or foam sheet

Now cut out the shapes

Decorate as you wish (tips and suggestions below)

Create a hole at the top of your ornaments and use ornaments hooks or a string to hang your ornament from your tree
**FYI I am an Amazon Partner, meaning if you purchase an item through a link I receive a very small percentage at no cost to you. Learn more here**
TIPS ON HOW TO DECORATE FOAM SHEETS
ELMER'S GLUE
I found that good ol' Elmer's Glue was perfect to glue foam to foam. I created this ornament by cutting out 3 different sizes of pot leaves then gluing them ontop of eachother.
HOT GLUE GUN
You can also use a hot glue gun to attach things like buttons, rhinestones, pom poms, or pretty much anything onto the foam ornaments.
SHARPIE MARKERS
If you prefer you can also draw on the foam sheets using Sharpie markers. Just be careful because it does take a few seconds for the ink to dry, you don't want to smudge it.
HOW TO DECORATE FELT SHEETS
HOT GLUE GUN
Use your hot glue gun to glue felt shapes together and create more detail on your ornament.
OTHER IDEAS
Add detail to your felt ornaments with embroidery

Create ornaments with air dry clay or polymer clay

Use a jigsaw to cut out the ornaments out of thin sheets of wood

Only have normal printer paper? Cut out the shape on cardboard as well and glue the paper onto it for a more sturdy decoration

Cut the shapes out of cardboard and decorate with washi tape, duct tape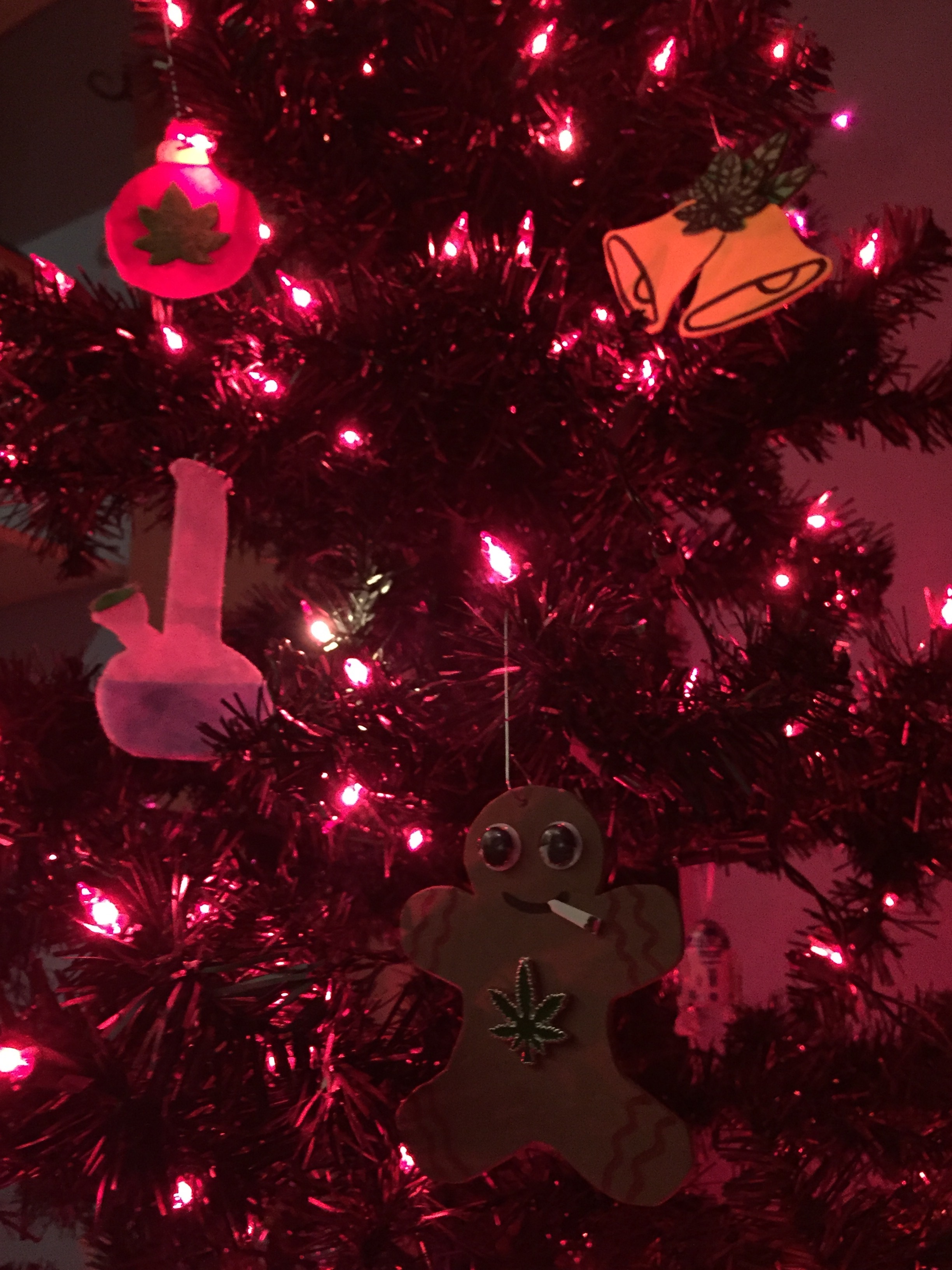 There are so many different ways you can create your ornaments, your imagination is the only limit!
I made this unique weed leaf ornaments using a glue gun!
HERE'S A COUPLE GALLERY OF ALL MY KUSHMAS ORNAMENTS I MADE and MY YOUTUBE VIDEO TOO!
I hope I've inspired you to create your own Kushmas decorations! When you make the ornaments I'd love to see them! Share them with me on any of the social networks below.
Comment down at the bottom which one is your fave ornament that I made.
Do you enjoy cannabis inspired creativity? Then join my newsletter to get weekly updates about what I've been making and hopefully I can inspire you to create something as well